Turkey seeks normalization of relations with Israel, says it will work for a two-state solution for Palestine: Peoples Dispatch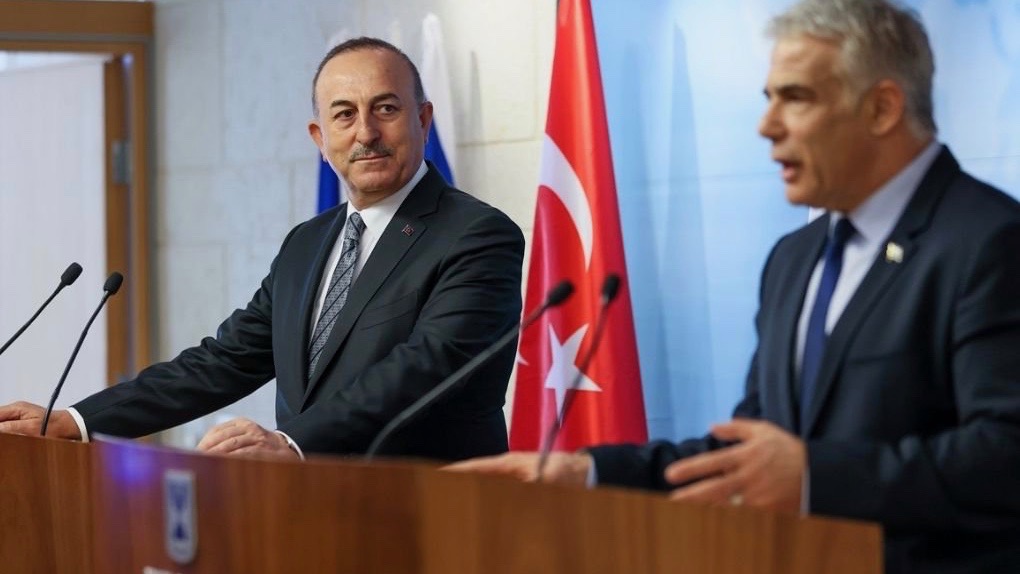 Turkish Foreign Minister Mevlut Cavusoglu visited Israel and the occupied Palestinian territories on May 24-25 to revitalize diplomatic relations between Israel and Turkey. It was the first high-level diplomatic visit by a Turkish minister to Israel in the past 15 years.
Addressing a press conference after their meeting, Israeli Foreign Minister Yair Lapid announced the creation of a "joint economic commission" and a new civil aviation agreement between the two country. He also expressed hope that the two countries will soon restore full diplomatic relations.
Turkey, one of the few countries in the region to recognize Israel when it was formed, has gradually reduced relations since 2008. Israel's attack on Gaza in 2008-09, in which more than 1,400 Palestinians were killed, is the immediate reason. for the deterioration of their relationship.
In 2010, the murder of 10 Turkish citizens by Israeli forces during a raid on the Mavi Marmara aid flotilla trying to break the Israeli blockade imposed on Gaza also added to the growing coldness in diplomatic relations, Turkey withdrawing its ambassador.
Diplomatic relations deteriorated further after the complete failure of peace talks between Palestinians and Israelis in 2014.
There was an attempt to reconcile relations between the two countries in 2016, however, they again stopped exchanging ambassadors in 2018 following the Israeli killing of dozens of Palestinians during protests against the opening of the U.S. Embassy in Jerusalem and the Great March of Return Protests. .
Turkish President Recep Tayyib Erdoğan and his Justice and Development Party (AKP) are seen as close to the Muslim Brotherhood which actively supports Hamas in Gaza.
As part of a broader regional rapprochement
Cavusoglu arrived in Israel on Tuesday and first met his Palestinian Authority (PA) counterpart Riad al-Maliki and President Mahmoud Abbas in Ramallah in the occupied West Bank. According to a report in Wafa Abbas news agency informed Cavusoglu on Israel's violent repression of Palestinians, home demolitions, forced evictions and apartheid practices inside the occupied territories.
Cavusoglu then went to the Al-Aqsa Mosque compound in occupied East Jerusalem, which has witnessed repeated attacks by Israeli security forces and settlers. During his visit to the occupied territories, Cavusoglu affirmed that the normalization of relations between Turkey and Israel "will have a positive impact on the peaceful resolution" of the Palestinian conflict.
At Wednesday's joint press conference, Cavusoglu said Turkey and Israel look forward to opening regular dialogue at the highest level and strengthening their economic ties. He also reiterated his country's support for a "two-state solution" and stressed that the sanctity of Al-Aqsa Mosque must be maintained.
Erdogan's government recently embarked on a strategy to relaunch its relations with regional players. Before Israel, Turkey signed new agreements with the United Arab Emirates and Saudi Arabia, with which it had previously faced diplomatic problems. Commentators have argued that Turkey's drastic change in approach to the issue of Palestine and its support for the Muslim Brotherhood is the result of an ongoing economic crisis in the country and the need for international investment.
The Turkish economy is going through a critical phase with unprecedented high inflation (61%) and a historic fall in the value of its currency (nearly 50%). In order to revitalize the economy, the Erdogan government is seeking to increase trade and investment in the region and is working on rapprochement with countries such as Saudi Arabia, the United Arab Emirates, Egypt and Israel.
The current reconciliation between Israel and Turkey began with the visit of Israeli President Isaac Herzog to Turkey in March this year.