Modi to visit Nepal amid need to review relations following geopolitical shifts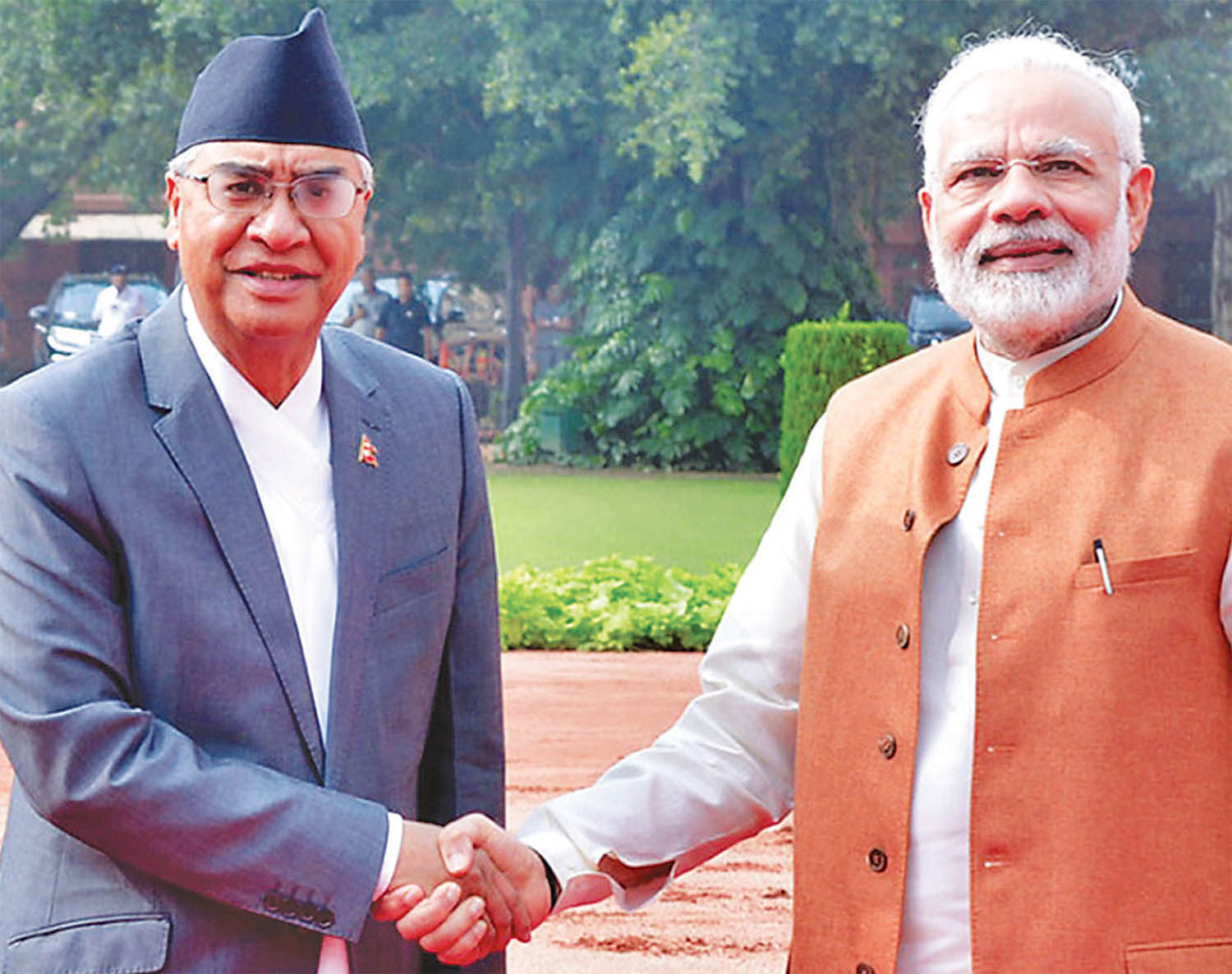 Just ahead of Indian Prime Minister Narendra Modi's planned visit to Lumbini on the occasion of Buddha Jayanti, India has proposed Navin Srivastava, a Chinese arm of the South Block, as Nepal's new ambassador. A month and a half after Prime Minister Sher Bahadur Deuba's visit to India, Modi is due to travel to Lumbini on May 16 to attend a ceremony to mark Buddha Jayanti, officials from Nepal and India confirmed to the Post.
An official announcement has yet to be made.
Officials have also confirmed that Srivastva will replace Vinay Mohan Kwatra at Lainchaur. Kwatra has already taken office as Indian Foreign Secretary after returning from Kathmandu as Indian Ambassador.
"We got clearance for Srivastava this week and it is in the process of being formalized," a senior Nepalese government official told the Post on Tuesday.
After approval of the accreditation by Nepal, the Indian government will announce the appointment of Srivastava in place of Kwatra.
Srivastava, an Indian foreign service officer from 1993, previously served as India's Ambassador to the Kingdom of Cambodia and Indian Consul General in Shanghai.
Currently, Srivastava serves as an additional secretary in the Indian Ministry of External Affairs and heads the crucial East Asia Division which deals with issues relating to China, Democratic People's Republic of Korea, Japan, Mongolia and the Republic of Korea, according to the Indian ministry's website. of External Affairs.
Foreign ministry officials said Nepal would respond "soon" to India's offer of Srivastava as ambassador, as Modi's planned visit is less than two weeks away.
The two sides have started preparations for Modi's visit and sent high-level delegations to Lumbini to discuss arrangements.
A Nepalese team led by Chief of Protocol Durga Bahadur Subedi and security officials from various departments have already visited Lumbini and discussed various aspects of the visit with the Indian side and local authorities, according to a senior security official.
As of now, according to indications from India, Modi will arrive just for a one-day visit.
The Hindu newspaper reported on Tuesday that Modi would take a helicopter from Kushinagar to Lumbini.
"After worshiping in Lumbini, he will address a gathering titled 'Buddha Memorial Ceremony' and lay the foundations for the Buddhist monastery to be built with Indian assistance," the newspaper reported.
If time does not allow Modi to travel to Kathmandu for a layover, Prime Minister Deuba and other ministers will welcome and meet Modi in Lumbini that day, officials said.
Prime Minister Deuba will travel to Bhairahawa near Lumbini on the same day to inaugurate Gautam Buddha International Airport.
According to the Hindu's report, two prime ministers will attend the lamp lighting ceremony at the Mayadevi Temple and officials from both sides have already conducted a reconnaissance of the arrangements for the visit. "Modi will fly from Delhi to the newly inaugurated Kushinagar International Airport and then fly by helicopter to Lumbini, which is a short distance from the Indo-Nepal border," the newspaper reported.
It will be Modi's fifth visit to Nepal since 2014, when he was first elected as prime minister, and his first to Lumbini. During his previous visits to Nepal, Modi had expressed his desire to see Lumbini.
The visit this time will be Modi's first since his re-election in 2019.
Nepal and India saw their bilateral relations hit their lowest point a year after Modi's first visit to Kathmandu following Delhi's decision to impose a border blockade that caused shortages of fuel, medicine and food. other essential items.
CPN-UML's KP Sharma Oli then led the 2017 election campaign by intensifying ultra-nationalist or anti-Indian rhetoric.
Oli was elected to power. During Oli's tenure as prime minister, ties hit a new low again following his remarks that India's virus was deadlier than Chinese and Italian and whether India took on the aspect physics of India's national emblem – the Lion Capital of Ashoka -"simhameva jayate" or "satyameva jayateand his government's decision to publish a new national map showing the Kalapani region within Nepalese territory.
However, bilateral relations now appear to be back on track, also evidenced by Delhi's rolling out of the red carpet for Deuba last month.
Officials said Deuba invited Modi during his visit to Delhi. Efforts will be made for Modi to visit Kathmandu as well when he comes to Lumbini, officials say.
Modi's trip to Nepal this time comes amid rapid geopolitical changes, with Nepal recently caught between the US-China rivalry over the Millennium Challenge Corporation pact. Beijing had explicitly warned Nepal against accepting the $500 million US grant. A month after Nepal ratified the grant agreement, Beijing sent its Foreign Minister Wang Yi to Kathmandu. During his visit, Wang lobbied for some projects under the Belt and Road Initiative in Nepal, but Kathmandu said he was unwilling to take commercial loans.
Following the Indian blockade, Nepal's northward swing had alarmed Delhi, which wondered if it was losing its sphere of influence, as Beijing made inroads in the South Asian region.
Observers say Modi's visit to Lumbini appears to be the fulfillment of his earlier desire to offer worship at the Mayadevi temple, but recent turn of events makes it a strategy.
Srivastava, Delhi's proposed ambassador to Kathmandu, is seen as a strong hand of China, and most importantly, according to Indian media, after the Galwan skirmishes between Indian and Chinese troops in May 2020, he was the resource person for the Indian diplomatic side to the Corps Commander level meeting with the Chinese side.
India and China have set up different mechanisms to settle the decades-old border dispute and as head of the East Asia Division, Srivastava was also leading the working mechanism for business consultation and coordination. (WMCC) with China after the India-China border dispute and the crisis in eastern Ladakh.
Srivastava, who currently handles the East Asia desk at the Ministry of External Affairs, is the man who was integral to the meeting of Indo-Chinese military commanders to defuse the situation in eastern Ladakh after the Chinese PLA crossed the Line of Actual Control (LAC) in May 2020, according to the Hindustan Times.
After Kwatra was appointed India's new Foreign Secretary, Kumar Tuhin, Director General of India's Council for Cultural Relations, Santosh Jha, Indian Ambassador to Belgium, Luxembourg and the European Union; and Abhay Thakur, additional secretary in the Ministry of External Affairs, would be the possible names for Kathmandu.
Similarly, Pranay Verma, India's ambassador to Vietnam who previously headed the East Asia division at the Ministry of External Affairs, was also seen as Kwatra's possible successor.
"Given the influence of the Communist Party of China on Nepalese politics through power and pelf, Srivastava will find it difficult to counter Beijing's narrative with the Himalayan republic playing both sides for optimum advantage," Hindustan wrote. Times describing the challenges for New Delhi. sent.
"However, the Chinese grip on Kathmandu loosened after the appointment of Sher Bahadur Deuba as Prime Minister and the split within the Maoist-Communist movement in the Himalayan Republic when Vinay Kwatra was Ambassador to Nepal. .
Modi's proposed visit to Lumbini has a strong cultural affiliation which Modi uses as soft power diplomacy, said Durgeshman Singh, Nepal's former ambassador to India.
And that's good for both countries, he said.
"Culture brings people together and the visit will add value to public life and society. Once we get closer, it will help settle the problems and differences between the two countries," said Singh, who served as Nepal's ambassador to India from April 2008 to September 2009. "Modi is playing a long-term card while visiting Lumbini.