Iran seeks to expand relations with African countries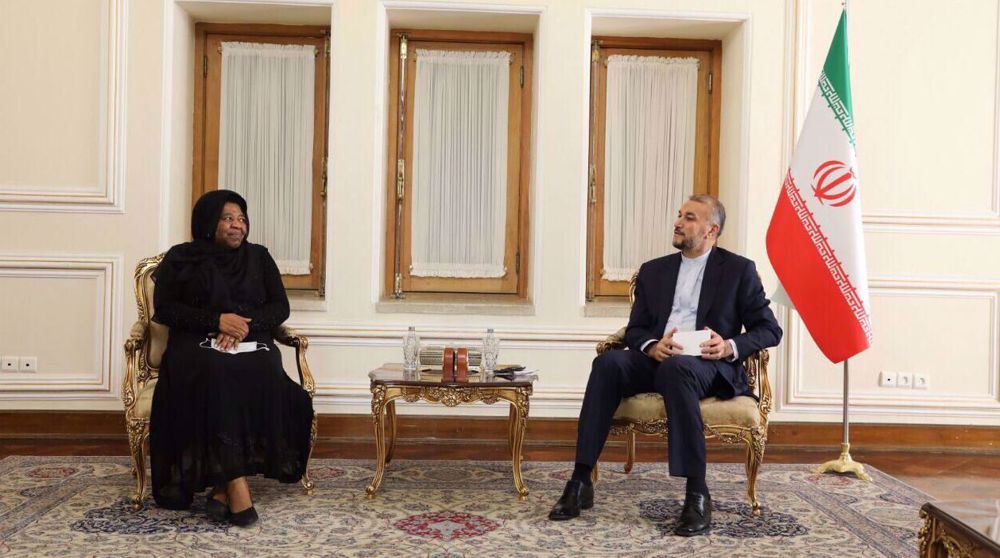 Foreign Minister Hossein Amir-Abdollahian said the current Iranian administration is seeking to expand its relations with countries on the African continent.
The head of diplomacy made the remarks during a meeting with Candith Mashego-Dlamini, South African deputy foreign minister in Tehran on Sunday. The African official is in the Iranian capital leading a delegation to attend a meeting of the countries' joint political deliberative committee.
The current Iranian administration maintains a "special perspective" on relations with South Africa, the foreign minister said, adding that "Iran does not recognize any limits regarding [the expansion of] its relations" with the country.
Amir-Abdollahian described the joint relationship as "historic and friendly". He said the countries had "very good capacities" that could be used for the development of their relations, and recalled that the upcoming meeting of the joint commission of countries to be held in Pretoria was important in this regard.
The Iranian official, meanwhile, expressed his gratitude to South Africa for its supportive stances regarding the struggle of the Palestinian people in the face of Israeli occupation and aggression.
The African official, for her part, expressed hope that the meeting of the joint political deliberative committee would feature "conducive and constructive" discussions on various issues and result in the establishment of the "road map for bilateral relations".
She also anticipated that the joint commission meeting in South Africa and shuttle diplomacy by the countries' officials would lead to further development of mutual relations and cooperation.
Also on Sunday, the foreign minister had a phone conversation with his Qatari counterpart Mohammed bin Abdulrahman bin Jassim Al Thani.
The officials discussed issues such as the latest agreements between the countries' officials and the upcoming World Cup which is expected to be held in the Arab country.
They also discussed the full expansion of bilateral relations and negotiations in the Austrian capital of Vienna that aim to revive the Islamic Republic's 2015 nuclear deal with countries around the world.
The senior diplomats stressed the continuation of mutual consultation aimed at following up on issues that are on the agenda of relations. The consultations, they said, should also incorporate issues of mutual interest in the regional and international arenas.