Forum recognizes the role of women in Spanish agriculture | Article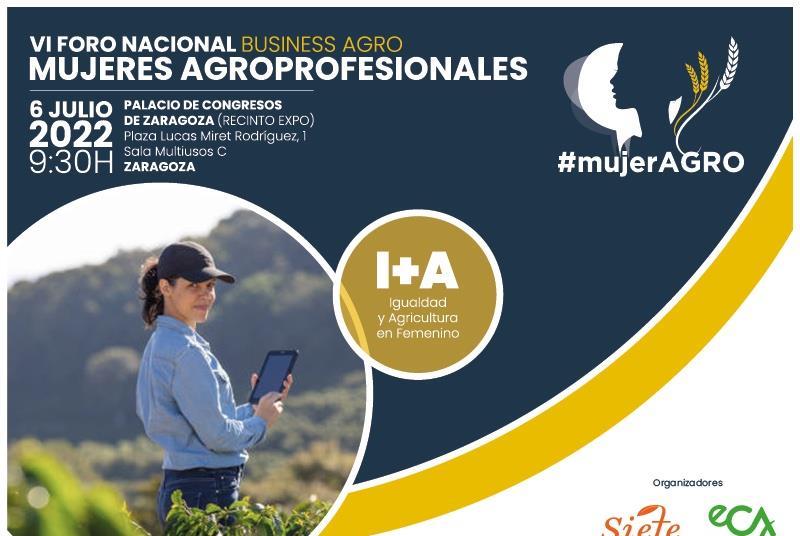 The event aims to increase the visibility of women in rural areas and promote awareness of equality, equity and diversity
The VI National Business Forum for Agroprofessional Women (MujerAGRO) will be held on July 6 at the Palacio de Congresos in the Spanish city of Zaragoza in Aragon.
Under the theme: "Equality and agriculture for women", the event aims to promote awareness of equality, equity and diversity, and to increase the visibility of women in rural areas, have declared the organizers Siete Agromarketing and eComercio Agrario.
"We have worked for two terms to break the gender gap on the pitch. Women have always played a decisive role in rural areas, but they have never been recognized as they should be", commented Joaquin Olona Blasco, Minister of Agriculture, Livestock and Environment of the government of Aragon.
"From Aragon, we have made a political commitment to increase the weight of women in the CAP and we have influenced the inclusion of the gender perspective in the new Strategic Plan through specific measures.
"But we must not forget that the maintenance of historical rights is an obstacle to progress towards gender equality and for this reason, from Aragon, we have insistently demanded its abolition".
The Minister underlined the need to take concrete measures to reduce the gender gap in the agricultural sector and give women the recognition they deserve in the rural world. He said women make up only 25% of the agrarian workforce in Aragon and hold very few leadership positions in cooperatives, irrigation communities and other organizations.
During the event, the General Director of Innovation and Agrifood Promotion of the Department of Agriculture, Livestock and Environment of the Government of Aragon, Carmen Urbano Gómez, will participate as speaker at a panel discussion titled "Leaders in the Shadow: Rural Women" .
Urbano said women are the backbone of Aragon's agro-industrial development, especially of rural areas.
"It should be emphasized that a large part of rural entrepreneurship and innovation in this sector is female, there are multiple initiatives of women who are developing their businesses and professions with great success and who serve us as example," she said.
"Although many of them are still doing commendable work in the shadows, our goal is to make their talent visible and also to encourage many others to become a more active part of Aragon's agribusiness economic life. We are a noble land full of opportunities.
Ma Ángeles Benítez Salas, Director of the Representation of the European Commission in Spain, will also speak at the event.