Agriculture Department of Spice Board of India Holds 'Buyer-Seller Meetup'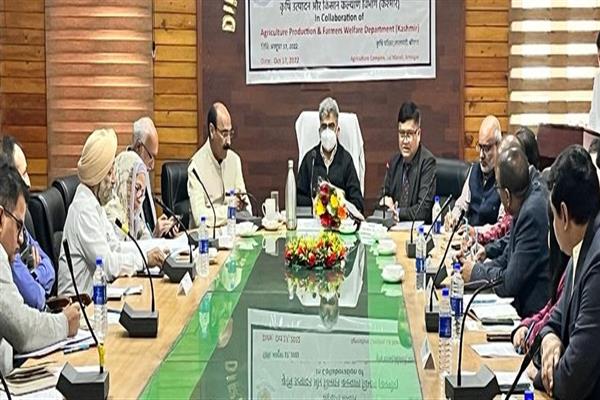 SRINAGAR, OCTOBER 17 (KNS): The Ministry of Agriculture of Kashmir, in collaboration with the Spice Board of India, today organized a buyer-seller meeting and holistic discussion on the challenges in the value chain of the available market of labeled Kashmir saffron IG, at Lalmandi Agricultural Complex, Srinagar.
Additional Chief Secretary (ACS), Department of Agricultural Productions. Atal Dulloo, inaugurated the event.
Addressing the gathering, Atal Dulloo said that after the GI labeling of Kashmir saffron, its production is getting improved economic returns leading to socio-economic transformation of saffron producers. He added that the e-commerce facilities provided to saffron producers at the Indian International Kashmir Saffron Trade Center (IIKSTC) also contribute to the extended reach of Kashmir saffron in new markets internationally. International buyers are buying Kashmir saffron because of this online trading system, he said.
Dulloo said the quality of saffron from Kashmir is better than saffron from other countries like Spain and Iran. He called on all stakeholders to work hard to ensure that the benefits of this high quality Kashmir saffron reach the concerned farmers.
ACS has requested relevant officials from the Spice Board of India to hold virtual meetings with international buyers regarding Kashmir saffron to let them know that the J&K government is ready to meet their specific needs. He said that our production will be export-oriented and buyer-oriented in the coming days and that we should take all initiatives for all improvements of our product if necessary. He said the National Saffron Mission has played an important role in reviving saffron and the department is working on different programs to promote and develop this golden spice.
Kashmir Agriculture Director Chowdhary Mohammad Iqbal listed various interventions undertaken by the department for the promotion of saffron and its marketing.
Earlier, the director of Marketing Spice Board of India, BN Jha, gave a detailed presentation of the various measures taken by the board for the promotion and marketing of saffron.
Later, a fierce discussion took place on the challenges of available market chain of GI labeled Kashmir saffron in which stakeholders presented their valuable insights.
Among others, the meeting was attended by Joint Director of Agricultural Extension, Mohammad Syed Pir, Director of Agriculture, Srinagar Mohammad Younis Chowdhary, Spice Board Consultant, Sector Heads, Senior Managers, FPOs, Vendors and Buyers . (KNS)