SHI celebrates 20 years of accessible macrobiotic education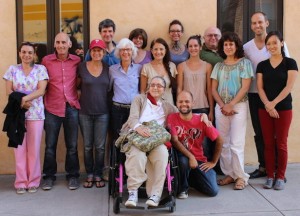 Huge resources are spent on health care every year, but the overall health of humanity is declining. Meanwhile, awareness of the link between diet and health is spreading. As a result, more and more people are beginning to realize that they can create their own health.
Our Philosophy
Huge resources are spent on health care every year, but the overall health of humanity is declining. Meanwhile, awareness of the link between diet and health is spreading. As a result, more and more people are beginning to realize that they can create their own health. Here are some basic steps one can follow to get started:
Add to your diet, don't subtract
Start with a mostly plant-based diet
Exercise outdoors regularly
After 50 years of guiding and educating people in macrobiotics, the founder of SHI Denny Waxman decided it was time to update the macrobiotic practice approach to make it more open and inclusive. Today, the Strengthening Health Institute allows people to learn this approach while making it easy to learn and adapt to the fundamentals of macrobiotics without being overly restrictive (a major difference between the macrobiotic practice of the past).
The early years
Denny founded the Strengthening Health Institute in 1997 to educate people about his unique approach to macrobiotics. In 2002, SHI officially became a 501c3 nonprofit organization and began creating educational programs primarily for people already familiar with macrobiotics. Most of the early participants had a strong background in macrobiotic education and were looking to expand their understanding and practice. The early years focused on advanced studies to guide people to become macrobiotic teachers and counselors.
At that time, most macrobiotic educational programs and seminars were held on-site at retreat centers and other places where people could easily study and interact with each other. In 2006, our own physical center was established which included our signature cafe, called Genmai (Japanese for brown rice). Over time, it became clear that in order to reach more people, SHI needed to develop a strong online presence. The past 7 years have been spent doing just that!
What we celebrate
Through SHI Macrobiotics educational programs, we have positively impacted the lives of tens of thousands of people, including our friends, online students, on-site attendees, and of course our growing list of macrobiotic educational partners.
At SHI Macrobiotics, we have developed videos, webinars, online courses, on-site residencies, healthy vacation adventures, cooking classes, blog posts, lectures and helped create the new definition macrobiotics. Let's explore some of these current achievements in more detail below.
Educational programs
3 online courses ranging from the basics of macrobiotics to training to become a macrobiotic advisor
3 cooking lessons recorded online
4 online macrobiotic conferences
30 webinars for special health topics, including coronavirus management
10 modules to understand the SHI approach to macrobiotics
Annual on-site residential (which we hope to renew soon)
70 blog posts related to health, food and lifestyle
22 videos in our free video library on the website about the unique nature of macrobiotic practice
Numerous alliances which include: Instituto Kushi, George Ohsawa Macrobiotics Foundation (GOMF), Instituto Macrobiótico de Spain (IMS), Instituto Macrobiótico de Portugal (IMP), La Sanagola (Italy), Mindful Practice Center Fairfax, the Physicians Committee for Responsible Medicine, and the T. Colin Campbell Center for Nutrition Studies, and others.
The definition of macrobiotics was long overdue, and we were able to come together with many other leaders around the world to align all of our visions into one singular, widely accepted definition.
Planning the Future of SHI Macrobiotics
Counselor and teacher training courses are an important aspect of our future orientation. It is in this area that we plan to invest significant resources so that our message on healthy lifestyles can grow and reach even more people.
We are currently creating a macrobiotic impact study that will bring together physicians and macrobiotic researchers to bring tangible real-world case studies for people to learn in more detail. Since most modern studies are conducted with a specific outcome in mind, we will show the benefits of a healthy macrobiotic diet and lifestyle through empirical, data-driven analysis. The intention of this is to document the impact that macrobiotic practice has had personally and socially over the past 50 years.
Continuing access to educational programs for those who may have limited resources is part of our organization's mission. It is for this reason that we have many free resources that are available to the public, as well as scholarships and decreasing prices.
Adding new courses and improving existing ones will allow us to spread our message even further and reach an audience that may have limited time and resources to devote to learning. Learning and moving towards health at your own pace is far more powerful than a restrictive or "all or nothing" approach. By updating some of the audio and visual capabilities we currently have, we will become more innovative and create much better content for our students to learn.
About SHI Macrobiotics
Here at Strengthening Health Institute, more commonly known as SHI Macrobiotics now, we like to think of ourselves as much more than just a macrobiotic school. However, we pride ourselves on creating truly valuable courses and programs that help people learn more about food, health, lifestyle, and how to track all of the essential information for personal and planetary health.
This knowledge comes from decades of study, teaching and interaction with macrobiotic centers around the world. Denny has worked with all the major professors of macrobiotics around the world since the 1960s when macrobiotics first emerged in Western civilization. We strongly urge you to register for a class and attend one of our events so you can personally experience the unique spiritual, physical, mental, and emotional benefits macrobiotics has to offer. You'd be surprised how delicious and satisfying healthy eating can be!